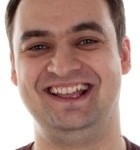 One of the most engaging presentations I coördinated at the Society of Actuaries (SOA) annual meeting was one by Phil Maymin (pronounced MY-min).
I first discovered Phil when he debated Scott Adams on the Dilbert blog.
Then I inspected his academic publications – with titles like Past Performance is Indicative of Future Beliefs and Any Regulation of Risk Increases Risk his papers don't leave much room for misinterpretation.
In addition to possessing a PhD in Finance from the University of Chicago Booth School of Business, and graduate and undergrad degrees from Harvard, Phil's also a basketball stats guy, an alumnus of Long Term Capital Management, and a lawyer. In his day job, Dr. Maymin is Assistant Professor of Finance and Risk Engineering at the Polytechnic Institute of New York University.
Phil had sent me an earlier version of his presentation, which not only made me laugh out loud but it made my wife laugh out loud.
That's right: I made my wife look at a presentation on "Any Regulation of Risk Increases Risk" and she laughed out loud, especially at a photo of a cat that was evidently surprised to hear that regulation could increase risk.
Interactive Polling: How We Choose Banks
Dr. Maymin made his SOA talk interactive, polling the audience members to incorporate their answers and views into his presentation. Dr. Maymin mainly discussed banks, bank regulation, and bank runs. One of the points he made was that bank customers almost never consider safety when selecting their bank, which he demonstrated with the attendees via their poll responses. While this time he left out the gato sorprendido, to help illustrate how a bank run works Maymin borrowed a scene from The Simpsons' episode, "The PTA Disbands." In the scene, a parody of "It's a Wonderful Life," Bart instigates a bank run.
Recurring Culprit: Estimation Uncertainty
Levity aside, Dr. Maymin's primary point is that any objective (read: quantifiable) measure of risk imposed by regulators would inevitably lead to higher systemic risk. Start by acknowledging that estimating asset price or return volatility always involves measurement error, a common theme running through these sessions. Inevitably, regulated institutions will demand assets whose true volatility is understated, hence systemic risk will likely become concentrated in such assets. Whenever such assets' values eventually experience adverse price shocks, the capital of banks who held them would be affected, and the effects would likely be wide-spread.
Maymin's prescription is binary: either nationalize all banks or completely deregulate them and end deposit insurance. Here is a link to Maymin's SOA presentation (sorry, no surprised cats.)
While not all attendees went away convinced, they enjoyed the engaging and thought-provoking presentation. Many came up to me later and expressed their appreciation that Dr. Maymin puts so much energy into making his talk so much fun.